Image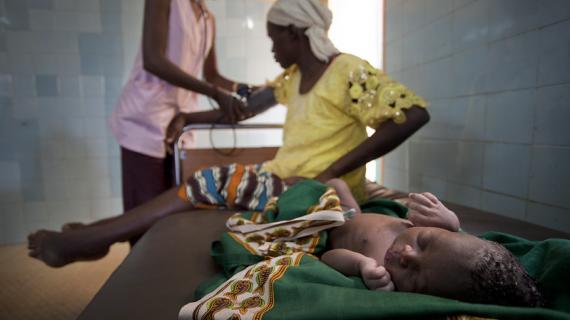 Today is the World Health Organization's (WHO) World Patient Safety Day, an event established in 2019 to "enhance global understanding of patient safety, increase public engagement in the safety of health care and promote global actions to enhance patient safety and reduce patient harm."
The theme of this year's event is "Safe maternal and newborn care," and WHO calls upon all stakeholders to "Act now for safe and respectful childbirth." It encourages governments, nongovernmental organizations, professional organizations, civil society, patient organizations, academia, and research institutes to join the global campaign by lighting up iconic monuments in orange, and organizing activities and events related to safe maternal and newborn care.
Approximately 810 women die every day from preventable causes related to pregnancy and childbirth, while some 6,700 newborns also die each day, representing 47 percent of all under-5 deaths, according to WHO. Another 2 million babies are stillborn every year, with more than 40 percent dying during labor.
"The provision of safe and quality care by skilled health professionals working in supportive environments" could prevent the majority of these deaths, and can only be achieved through "stakeholder engagement, the adoption of comprehensive health systems and community-based approaches."
Ethical Principles in Health Care (EPiHC, epihc.org), a World Bank and IFC initiative aimed at helping to achieve high-quality, affordable healthcare for all, applauds WHO's World Patient Safety Day and supports this year's theme focusing on safe maternal and newborn care.
"The limited availability of mother and child services in many markets can lead to quality and practice gaps resulting in questionable care," says IFC Senior Health Specialist Charles Dalton. "EPiHC provides a community whose signatories share best practices, knowledge and experience to address ethical issues and achieve common goals. It promotes best-practice standards that, when implemented, help to improve these kinds of services."
EPiHC, established in 2019, welcomes private healthcare providers, payors, investors and their respective associations to participate as signatories in this no-fee, collective-action initiative. One such signatory is the Emergency Care Research Institute (ECRI), whose Asia-Pacific office has posted a video in conjunction with World Patient Safety Day on their LinkedIn page.
"[We'll] be focusing on the best practices that healthcare providers could adopt at the point of care to prevent avoidable risks and harm to all women and newborns during childbirth," says ECRI Asia Pacific Marketing Executive Vicneswary Balakrishnan. "Do join us by sharing our video…and lighting up your houses with orange lamps as a sign of respect to the theme 'Safe maternal and newborn care'. Let us all 'Act now for safe and respectful childbirth'!"
For more information on EPiHC or to become a signatory, visit epihc.org/become-a-signatory or contact Margaret Rankin at mrankin@ifc.org or +1 774 205 3639.