Image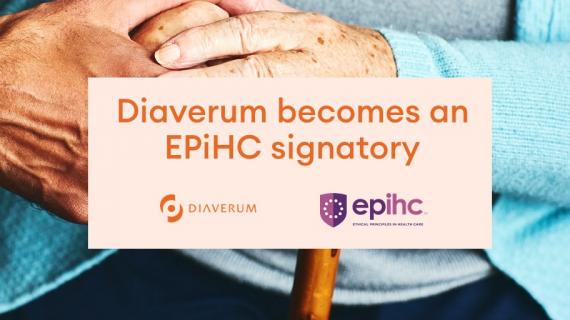 On 27 March 2019, the World Bank and International Finance Corporation (IFC) unveiled a set of 10 concise, pragmatic and universally applicable values to help private sector healthcare providers build transparent and resilient operating systems that meet the highest ethical principles. Diaverum now joins more than 160 signatories, including private healthcare providers, payors, investors and their respective associations. Together with their subsidiaries, partners, and other associated companies, the signatories represent more than 4,000 healthcare facilities in over 70 countries.
Kirsty Bashforth, Diaverum's Chief People and Communications Officer, said: "Diaverum's Code of Conduct and True care culture, together, ensure we operate within a rigorous governance framework and that we conduct our business in a transparent and ethical way. Becoming a signatory of the EPiHC is thus a natural development for us, one which we embrace proudly as a platform to share our experience with peers, learn from others in the industry and help the private healthcare sector as a whole play its role in advancing global access to high-quality, affordable care."
Diaverum sees a clear connection between ethical operating principles and the development of sustainable business models that can positively impact the countries in which private companies operate, for the benefit of patients, staff, the environment, and the communities they serve. The adoption of the principles by an increasing number of healthcare organisations helps raise the importance of ethical principles for the whole of the healthcare system, guiding and influencing decision-making in a way that promotes high-quality, affordable healthcare for all.
Elena Sterlin, IFC's Global Head of Health and Education, said: "We're very pleased to welcome Diaverum to the EPiHC community. Diaverum's rigorous governance framework and its commitment to conducting business in a transparent & ethical way embody the EPiHC principles, setting a leading example for the global healthcare sector."
For media inquiries:
Bruno Pamplona Polizio
Director of Global Communications, Diaverum
bruno.polizio@diaverum.com
+44 (0) 7874 853 405
Margaret Rankin
Operations Officer, EPiHC
mrankin@ifc.org
+1 (774) 205 3639
About Diaverum
Diaverum provides life enhancing renal care to patients with Chronic Kidney Disease (CKD), enabling them to live fulfilling lives. Diaverum is a leading global provider in renal care services, and we help some 40,000 patients with 6.2 million treatments annually. Our vision is to transform renal care, to deliver the highest quality of care for patients and reduce total cost of care for payers. Our focus is haemodialysis, but we offer a portfolio of treatments ranging from preventive care, peritoneal dialysis and home care to coordination of patients' comorbidities, transplantation services and holiday dialysis. Diaverum employs around 14,000 people and operates 450 clinics in 24 countries globally. Diaverum has its head office in Malmö, Sweden.